International Transport News Best Full-Service Avionics Supplier 2019 - USA
March 15 2019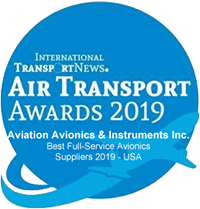 Aviation Avionics & Instruments, Inc. (AAIC) was established with a single mission in mind to provide the best service possible to its customers in the industry for Avionics, Instruments and Accessories repair.
AAIC was founded in 1987 and has continually strived to exceed the expectations of its customers. Working towards this goal, the firm has transformed into an international organization of dedicated professionals, utilizing the most modern equipment available to serve its clients.
Today, AAIC is an industry leader, headquartered in a 32,000 square foot, state of-the-art facility in Freeport, New York, just minutes from JFK International Airport. The firm offers 24 hours a day, 7 days a week AOG service, and consistently provides its customers with superior quality, cost-effective repair service and reduced turn times.
With one of the lowest warranty return rates in the industry AAIC maintains strict adherence to the highest standards for quality and cost containment. AAIC has always made it a priority to offer competitive pricing for a superior level of service, ensuring that it is able to meet the needs of a diverse range of clients across the aviation market. Seeking to offer cutting-edge support and services, AAIC's expert team utilize state of the art test equipment to diagnose its clients' components so that they know exactly what they require. These state-of-the-art systems provide clients with a capability unsurpassed in the industry and unequalled by the firm's competition.
As part of its client-focused, quality seeking approach, AAIC promises fast, accurate analysis, with test results and estimates immediately available to clients via email so that repair/replacements decisions can quickly be reached. The firm also offers customized reports, tailored to fit the clients' individual needs.
In addition to its commercial operations, AAIC is also established as a military contractor. AAIC services components from numerous different US and foreign manufacturers. AAIC is also an Authorized Service Center for Boeing Aerospace, Embraer Aircraft, Dessault Falcon Jet and Airbus Helicopter.
Ultimately, AAIC is setting the standards for the Avionics supply industry, and is constantly looking for opportunities to improve for the future. This will remain the firms ongoing focus as it seeks to retain its reputation for excellence in this increasingly competitive market.